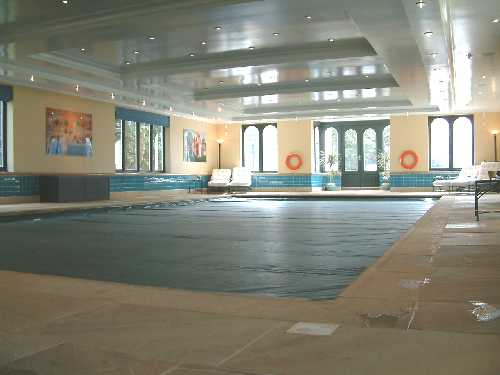 Domestic pool at Much Hadham, Hertfordshire, with ceiling void ducting, a Calorex Delta 6 and a dual fuel gas/wood burner boiler system. The scheme also included spa heating, domestic hot and cold water, and an emergency drench scheme on the wood burner in the event of power failure and boiler over-heating. Pool works were under-taken by Caribbean Pools of Braintree.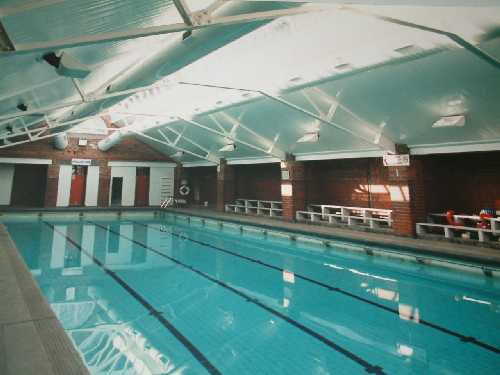 Retrofitted ventilation scheme to 25 metre pool at Bootham School, York. A pair of Calorex Delta 8 units were "squeezed" into an existing pool side store after careful and detailed site surveying and Cad based modelling.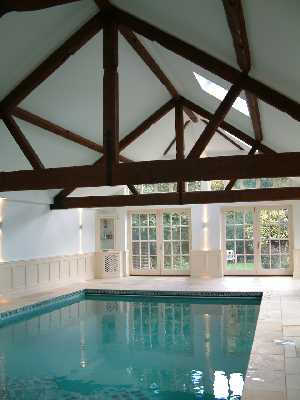 Domestic pool at Hemmingford Abbots. EPS provided A Calorex Delta 2 and underground ductwork, filtration and boiler plant. The scheme included under-floor heating to the pool surround and changing areas and domestic hot and cold water provision. Builder client provided his own pool finishes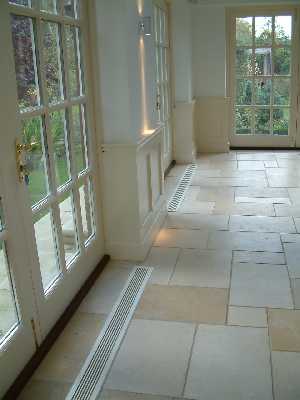 Typical floor grille installation supplying warm dry air to the foot of each section of external glass. Georgian style glazing is not normally recommended for pool room use due to cold bridging and air curtain disturbance.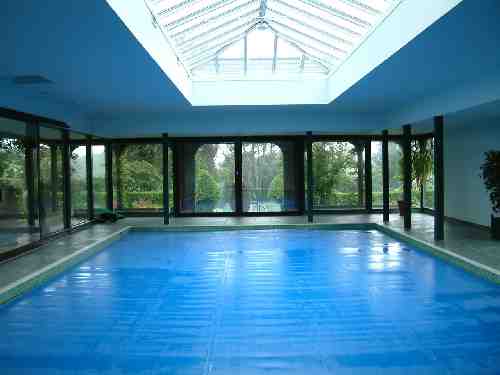 A large domestic pool near Wadhurst built by Heritage Pools. EPS installed a Calorex Delta 4, Balanced flue oil boiler, and all pool plant related electrics. Ductwork for air flow distribution is over-head allowing easy air flow routes onto both the low level sliding doors, and the high level roof light.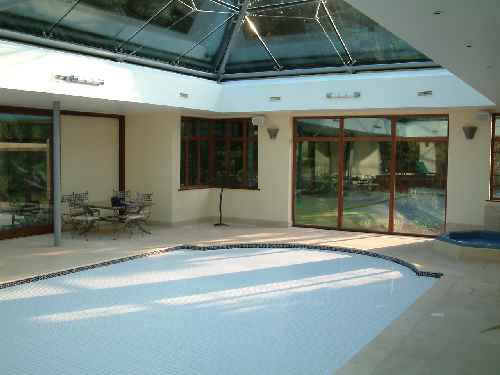 EPS were involved with the conversion of this outdoor pool to a modern luxury indoor pool. A Calorex Delta 8, overhead and underground ducts, ground dewatering, under-floor heating, condensing boiler and touch pad spa controls complete the package. Falcon Pools provided the pool tiling and pool plant.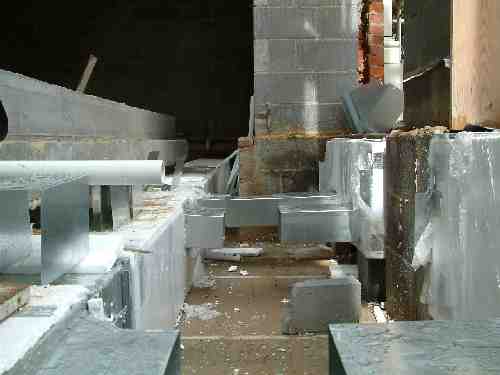 Ductwork installation in progress in North London. The underground ducts combine with an overhead scheme, a Calorex Delta 4, twin boilers and a BMS interface panel- All provided by EPS. The pool and associated work were by Heritage Pools.
We will endeavour to provide more examples in due course, and will add extra pages so down loading is not too tedious!
Services typically provided
| | |
| --- | --- |
| | Design consultation. |
| | Ductwork and ventilation design, plant installation. |
| | Boiler plant and adjacent area heating-hot and cold water |
| | Electrical control panels and plant area wiring |